Enjoying the great outdoors is one of the best things to do in Austin. So why not make your home an oasis for outdoor entertainment? As an ideal place to relax, party, or hang out, an outdoor entertainment area is a fantastic space for homeowners and their guests alike. It can be especially useful for those who live in areas where pleasant weather lasts most of the year, which is one of the factors drawing people to Austin real estate.
If you are looking to make the most of your outdoor space, whether creating an entertainment area from scratch or updating the one you have, these nine tips will make it shine.
1. Swimming pools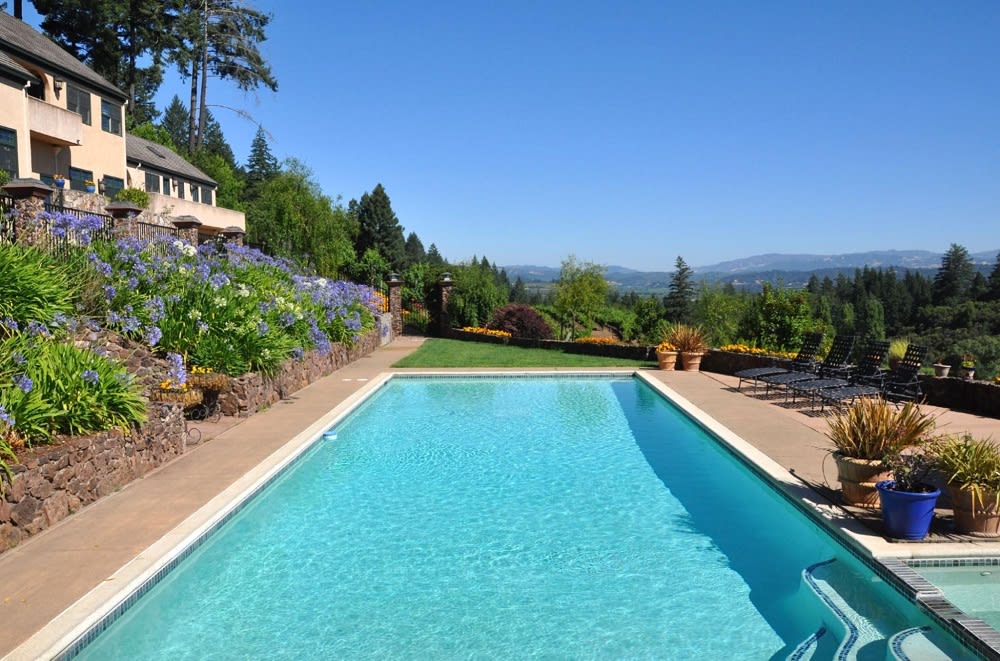 Photo courtesy of Shutterstock
If you already have a pool, there are some ways to make it even more practical and aesthetic. It is important to keep the pool itself and the surrounding steps, walking surfaces, and equipment clean. Keeping up with the pool's maintenance can go a long way in making it look beautiful and serene.
If you do not have a pool and have the space and funds for one, you could consider getting one installed. Pools provide a variety of fun activities for you, your family, and your guests. It is a great place to have people over and serves as a beautiful setting for dinners, BBQs, and hangouts.
2. Shading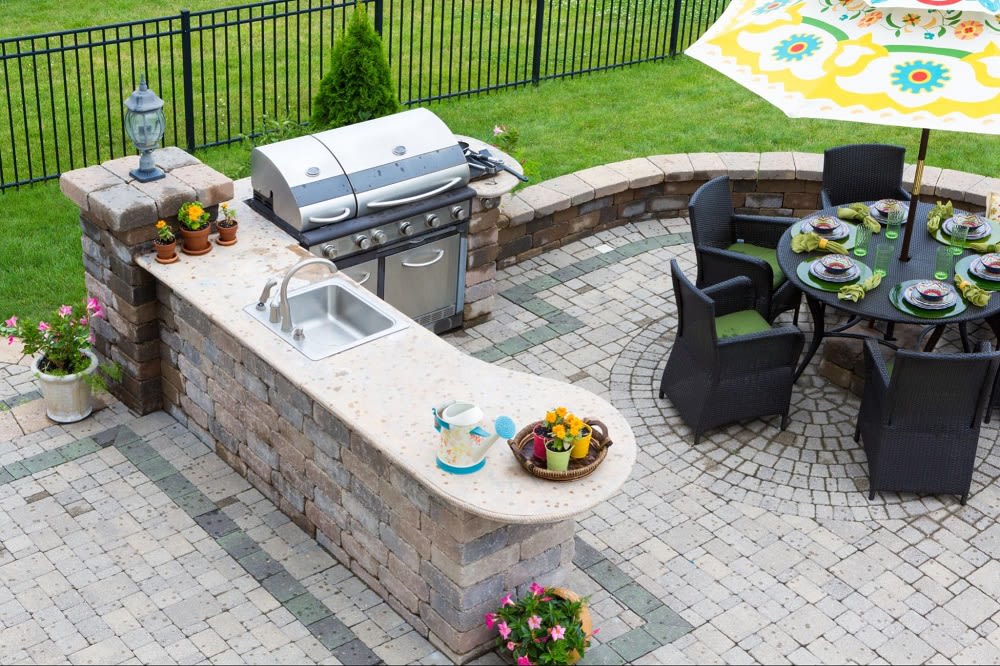 Photo courtesy of Shutterstock
Considering the sun and heat of Texas, shading is an essential part of any outdoor space. Some people use umbrellas, while others use retractable awnings. Another option is to build a porch, pavilion, or pergola. These structures offer protection from the sun, a cooler place to escape from the heat, and shelter from the rain.
3. Outdoor kitchens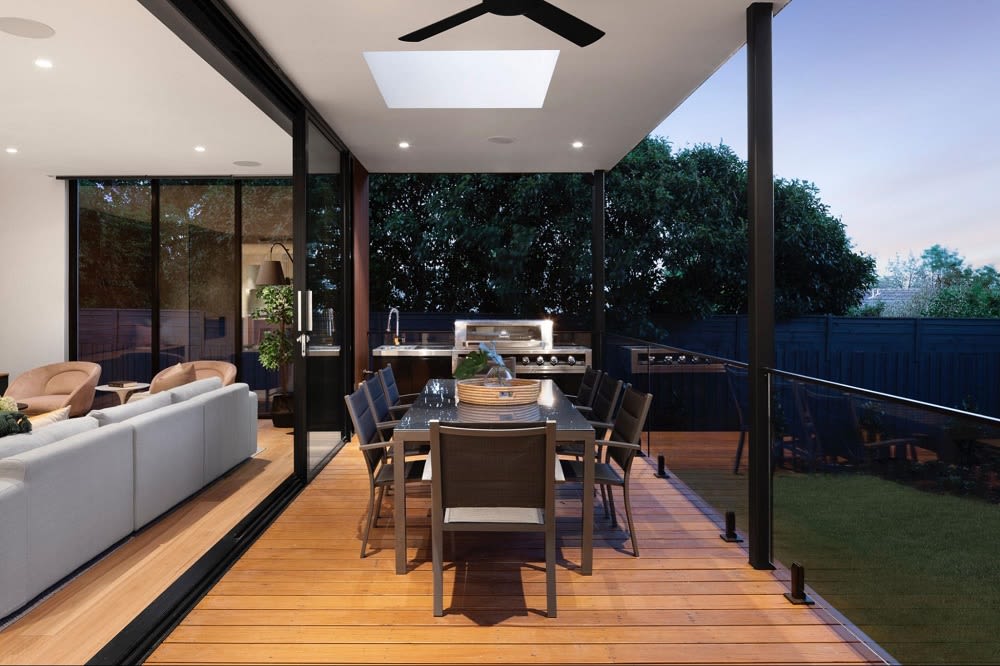 Photo courtesy of Unsplash
For homeowners who entertain frequently or enjoy cooking, an outdoor kitchen can be an attractive feature. It places the cook close to the party and keeps everything you might need outside, limiting necessary trips into the house. Smaller yards will not have the space for a large, built-in kitchen, but a grill and a portable cart for storage and counter space would be great options, and maybe even a mini fridge.
Meanwhile, if you have enough room, you can set up a more expansive kitchen. A full, built-in, outdoor kitchen is often custom designed to the owner's taste, including grills, cabinets, drawers, sinks, side burners, refrigerators, or a minibar, depending upon the individual's needs. However, full outdoor kitchens will often need permits for the plumbing and electricity.
4. Firepit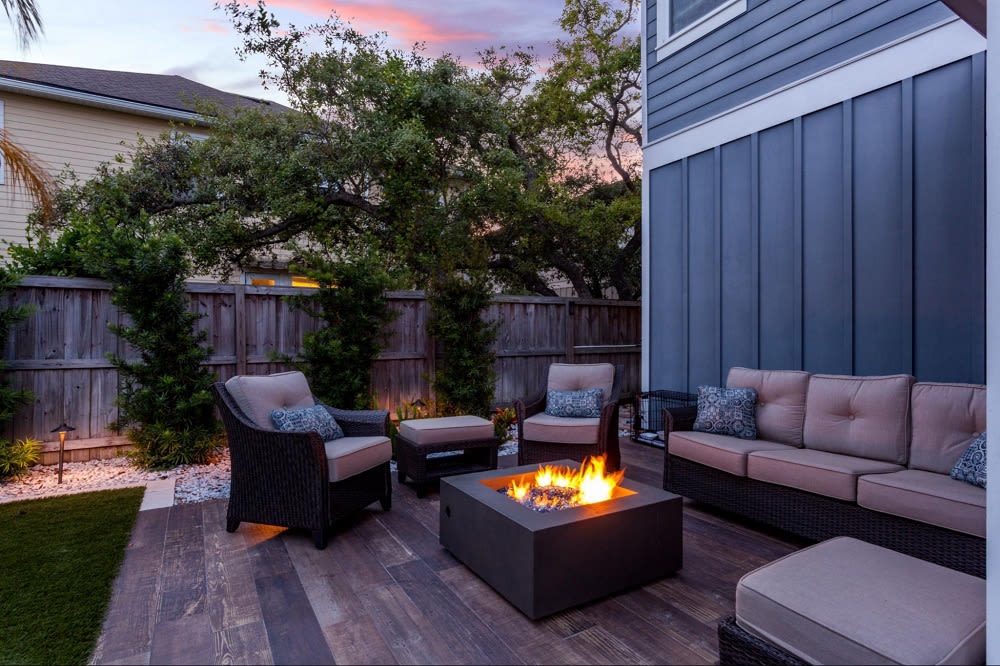 Photo courtesy of Shutterstock
A popular outdoor feature in the United States, fire pits provide fun activities, comfort, and aesthetics. Fire pits act as a heat source for cooler nights while also offering a gorgeous light source for outdoor parties. Of course, it is perfect for campfire food like marshmallows, smores, hot dogs, and even kebabs. While Austin does not require permits for residential fire pits, a fire pit should be at least 10 feet from anything which might catch fire, including trees, buildings, and fences.
5. Outdoor lighting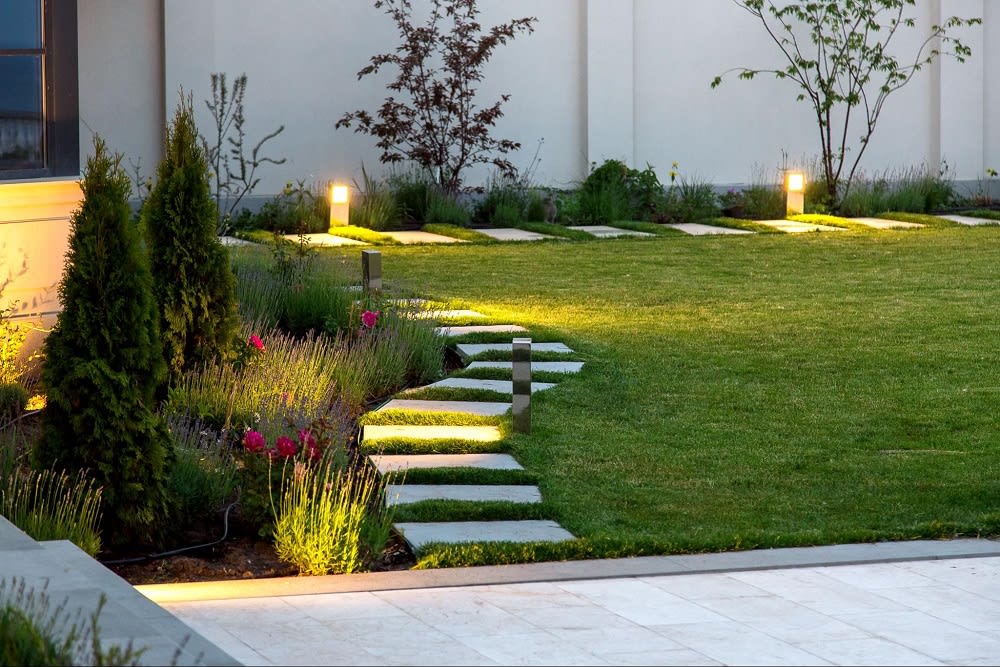 Photo courtesy of Shutterstock
When you have an outdoor entertainment space, chances are you will be out there at night eventually. Because of this, it is important to have good outdoor lighting for practicality and beauty. If you have a fire pit, it will provide some light, but it is a good idea to have additional lighting. There are a variety of lighting options, including hanging lights, hanging lanterns, wall lights, patio torches, and post lights. Pathway lighting along paths and stairs is particularly important.
6. Outdoor speakers
Music sets the mood for parties. If you plan to do a lot of entertaining outside, you should consider installing outdoor speakers on your porch, outdoor kitchen, side of the house, roof, or decorative rocks. A home stereo system is ready to raise the level of your party.
7. Seating
Seating can make a big difference to an entertainment area. You should always have plenty of seating for your guests. Arranging the seating in a circle will encourage socializing. Make sure the seating is designed to be outdoors and is resistant to the elements. Metal or plastic materials are generally preferred to wood, as wood can get waterlogged or bleached, while metal and plastic will not fall apart in dry or wet climates. Weather-resistant furnishings mean they can be outside all year round through the heat of summer and the chill of winter, although it is advised to cover them or bring them inside during extreme weather.
Not only is outdoor furniture low maintenance and longer-lasting, but it also comes in a variety of styles and designs. It is often preferable to have several different types of seating, such as chairs, loungers, or benches, for variety. Some outdoor spaces even have permanent seats, like concrete benches.
8. Color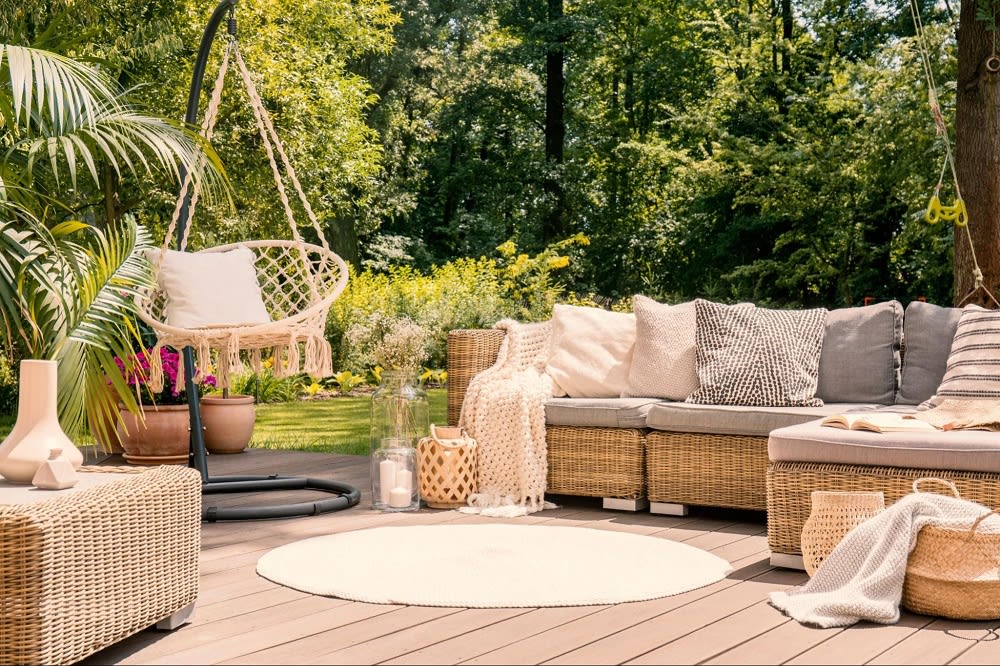 Photo courtesy of Shutterstock
Color is as important outdoors as it is indoors. Add some colorful pillows, blankets, and cushions to the seating. You could also consider adding some decorative items, fountains, or holiday decorations to make the space more inviting.
9. The garden
Flower beds in the yard or hanging baskets can add a great deal of color and beauty to the space. Vine plants on a trellis or the wall add a soft atmosphere, while hedges or trees may lend privacy. As for flowers, bulbs are often a good choice because they are easy to grow, will thrive in the sun or the shade, and will bloom through both spring and summer. They add some bright colors and will return to grace you with their beauty every year.
When you need more outdoor space
If you are in the Austin area and need a realtor, the
Dicker Morin Group
is a top choice. Founded and run by Jenny Dicker and Lana Morin Pierce, the group possesses high-quality marketing skills and over two decades of negotiation experience. Both agents are Accredited Luxury Home Specialists. Together, they passionately help their clients get the best possible results through their fantastic service and knowledge of the real estate process.
Contact Jenny or Lana today
and get started on your next Austin real estate project.
*Header photo courtesy of Pexels